To order merchandise please email Carol Johnson: [email protected]
or call the WOC Office: 202-675-1006
Check out our new Votes for Women merchandise here!
Please allow three weeks for shipping and note that merchandise purchases are not tax-deductible.
Purple Stoles  – $45
Long Purple Pastoral Stoles handmade by Grupo Mana, a group of women who live in the outskirts of Lima and with their sewing cooperative support their families. This Fair Trade product is made of the versatile manta cloth, traditionally used by indigenous women to carry their children on their backs, and is reversible, washable, and doesn't fade or shrink.  $45
Buttons – $2
Ordain Women $2
Priestly People Come in All Genders $2
Equal Rites! $2
Tote Bags – $15
Medium-sized Natural/Purple colored boat-tote bag in organic cotton, produced by Enviro-Tote, a family-owned, women-owned and operated company based in Manchester, NH. Each bag is hand-cut and sewn. $15
---
Last Supper Posters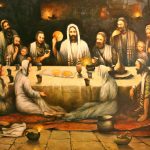 This "Last Supper" painting
(by Polish artist Bohdan Piasecki (1998)) includes 6 women and 2 children at the Passover celebration in Jerusalem. It is historically more accurate than Leonardo Da Vinci's famous "Last Supper" which is great art but terrible history.  Copies of this inclusive "Last Supper" are available from
We Are Church- Ireland
's website where you can order online and delivery is worldwide.