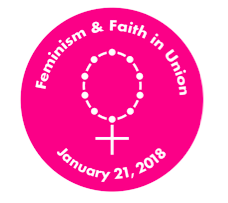 As weavers of feminism and faith, the Women's Ordination Conference is excited to share a project called Feminism & Faith in Union, a collaboration between Call To Action, FutureChurch, The Women Who Stayed, and WOC on the anniversary weekend of the global Women's Marches (January 20-21).
This "Weekend of Women" is expected to be a global witness of activists working to create transformative change and realize the equal rights and protections for all people and families.
Whether you join the Women's March events in your local community or bear witness in your own way, feminists of faith will be in union and communion during this important time.
We invite you to bring the power of activism and sacrament together: 
In Union Square in New York City, join an interfaith blessing on January 21st at 10am, followed by a march to the Church of St. Francis Xavier. Find details here or RSVP on Facebook.
In your community, organize a blessing, witness and/or liturgy. We've put together a resource guide with background information, inclusive liturgies, parish resources, and media materials here.
Join us online in raising the voices of feminists of faith by posting a personalized sign using #CatholicToo or #OrdainWomen. Please share your creative signs and photos from the weekend with us!
Thank you for taking action and being part of this global movement!