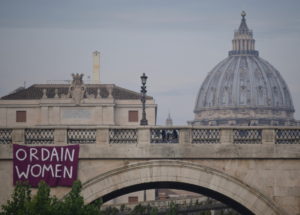 Rome, Italy: In celebration of the feast day of St. Therese of Lisieux, a purple banner reading "Ordain Women" was placed on the Sant'Angelo bridge just in front of St. Peter's Basilica in Rome Oct. 1. St. Therese, who herself longed to be a priest, is one of countless women whose vocations continue to be rejected and dismissed.
A 19th century French Carmelite nun and Doctor of the Church, St. Therese wrote in her journals and confided in her sister Celine of her deep desire to be a priest. She wrote: "I feel in me the vocation of priest."St. Therese's priestly vocation is too often written out of her story. Today we honor her not-so little impact as a courageous voice for women and her fierce love for God. Women are called to priesthood and it is our work to amplify their voices and, quite simply, keep them in the frame.
The continued exclusion of women from ordained ministries and decision-making roles in the Catholic Church is an injustice called sexism. We must speak out for inclusive leadership in our institutions and empower women to live their authentic call.
Links to high-resolution photos of the banner in Rome:
###
Contact:
Kate McElwee, Executive Director
[email protected]
+ 1 607 725 1364 (USA) +39 393 692 2100 (Italy)
Women's Ordination Conference, founded in 1975 is the oldest and largest national organization that works to ordain women as priests, deacons and bishops into an inclusive and accountable Roman Catholic Church.