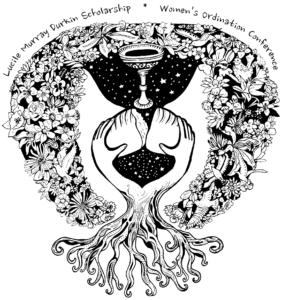 The Women's Ordination Conference, with the financial support of Sheila Durkin Dierks and her family, is honored to offer a scholarship fund for undergraduate and graduate women beginning in the 2017-18 academic year to support their academic and spiritual path toward ordained priesthood.
Apply now! Learn more about Lucile Murray Durkin.
Who is encouraged to apply? Scholarship applications are open to women who are enrolled or accepted into undergraduate or graduate studies program at a Catholic-sponsored college or university.
This scholarship is primarily directed to women who wish to be ordained Catholic Priests (including Ecumenical Catholic and Roman Catholic Women Priests). Secondarily it is open to women who are seeking priestly ordination in other denominations.
To be eligible, the candidate must enroll or participate in at least one class or significant volunteer ministry of comparable scope that she believes would forward the discernment of her call to a life in ordained ministry.
Timeline: Completed applications must be received by April 15th, 2017. Awardees will be notified by June 30th, 2017.
Award Agreement: $1,000.00 to be awarded annually.
Awardees of the scholarship agree to writing a personal reflection at the completion of one year, each year.
Grants are renewable on a yearly basis until graduation, provided the awardee enrolls in relevant coursework each semester.
Applications must provide:
An 2000-2500 word essay
Two letters of recommendation from an academic and/or spiritual mentor who can reflect on the applicant's vision of her sense of call to feminist ministry and transformative ritual; and her character as a woman of compassion, faithfulness, inquiry, sacrament, and service. Letters should be sent directly to the reading committee: [email protected]
---
Support the longevity and growth of the Lucile Murray Durkin Scholarship Fund with a donation today.
Download the Lucile Murray Durkin Scholarship Flyer to spread the good news in your community!