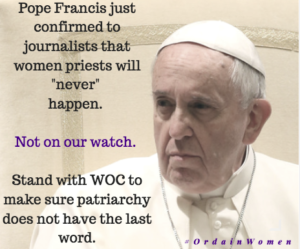 The exclusion of women from decision and policy-making in the institutional Roman Catholic Church is an injustice that disproportionately impacts the lives of women and girls. Because women are prohibited from ordination rites – a necessary key for leadership and voting positions in the Church – women are marginalized, silenced, and absent from Church policies that affect their lives.
Pope Francis has also just said that women's ordination will "never" happen, but we know the majority of U.S. Catholics overwhelmingly support the idea. Organize in your local community to keep the conversation going and mobilize the movement for women's equality by hosting a "Catholic Women's Equali-Tea."
These events are designed to raise awareness about the Women's Ordination Conference (WOC) and our organizing work in the Catholic landscape, and to build community among new and seasoned members, both locally and nationally. Click here for a planning tool-kit.